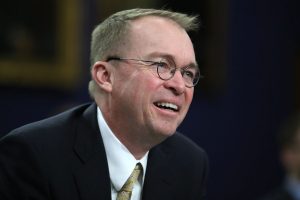 Mike Mulvaney, acting US Chief of Staff
Boris Johnson is coming under increased pressure to "think again" his decision to allow Huawei a role in the UK's 5G network.
Donald Trump's acting chief of staff Mick Mulvaney is coming to London to raise concerns.
Mr Mulvaney, who is leading the US delegation, is expected to call on Britain to change its mind.
The Daily Telegraph quoted a source close to the delegation as saying they expected to deliver a "bollocking" to British officials.
The source added: "One thing is on the agenda, and it's not a trade deal – it is Huawei."
The visit follows a phone call between the President and Prime Minister about the Huawei deal.
Mr Trump was said to be "apoplectic" about the decision.
Meanwhile, Australian MPs from its government's intelligence and security committee have pulled out of a meeting with Foreign Secretary Dominic Raab.
America, Britain, Canada, Australia and New Zealand are known as the "Five Eyes".
They share intelligence.
American claims Huawei is a security threat and uses its technology to spy on people and countries.
The Chinese company has vehemently denied all the allegations.