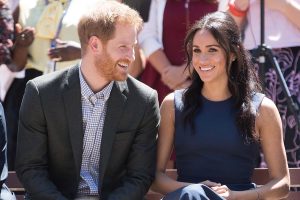 Prince Harry is talking to banking giant Goldman Sachs as he and wife Meghan aim to earn millions of pounds.
Harry has discussed a future role with the controversial American finance company.
The Daily Mirror reports the Prince made contact with the firm just weeks before the decision to quit the royal family and head to Canada.
Working with Goldman Sachs (GS) would continue a marketing trend for the Duke and Duchess of Sussex.
Last week Harry spoke at an event in Miami sponsored by bankers JP Morgan.
He talked about his struggles to cope with the death of his mother Princess Diana and being in therapy.
Goldman Sachs was a key player in the global economic meltdown in 2008.
It agreed to pay more than $5 billion in settlements.
GS and JP Morgan were alleged to have piled debt upon on homeowners with toxic mortgages.
In turn, the finance houses raked in billions of dollars in fees and revenue.
PR consultant expert Mark Borkowski said: "They're going to earn fortunes, whether through speeches or ambassador work – these are £1billion handshakes."
A Buckingham Palace spokesman said: "We do not comment on the Duke or Duchess' private schedule."