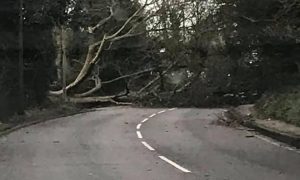 A man has died after his Mercedes car was crushed by a falling tree.
The 58-year-old driver was going from Winchester to Micheldever on the A33 in Hampshire.
Meanwhile, more than 20,000 homes are without power as Storm Ciara ripped through Britain.
The majority – 18,500 – are in the east and south east of England.
Another 2,800 are in the west and north.
UK Power Networks said:
"We understand how difficult it is to be without electricity and our teams are working hard to get everyone back on supply as quickly as is safely possible.
"Our engineers have already restored the majority of power supplies affected by the storm, and we are helping families in vulnerable circumstances who are without power."
Some parts of the country had six weeks' rain fall in less than 24 hours.
There are 178 flood warnings.
Winds hit 90 mph plus.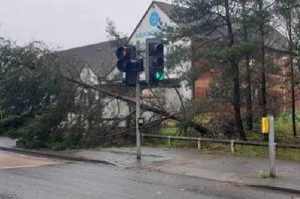 Storm Ciara left behind a trail of devastation as fallen trees and scattered debris closed roads and motorways.
Flights, ferries and trains were all cancelled as services struggled to cope with the battering.
Hundreds of passengers were stranded at London's Euston station after fallen trees blocked lines.
And airports advised travellers to check flights before setting off.
A British Airways spokesperson said:
"We're getting in touch with those affected, and have brought in extra customer teams to help them with a range of options including a full refund or an alternative flight between now and Thursday.
And, there's more bad weather on the way as the Met Office predicts strong winds, heavy showers, and snow and ice to hit.
Met Office meteorologist Alex Burkill told the Press Association:
"While Storm Ciara is clearing away, that doesn't mean we're entering a quieter period of weather.
"It's going to stay very unsettled.
"We have got colder air coming through the UK and will be feeling a real drop in temperatures, with an increased risk of snow in northern parts of the UK and likely in Scotland.
"There could be up to 20cm on Monday and Tuesday and with strong winds, blizzards aren't out of the question."