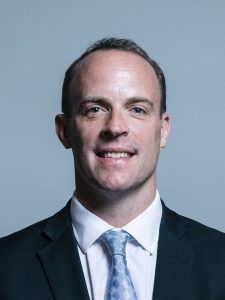 Foreign Secretary Dominic Raab
The government is "reasonably confident" it can do a post Brexit trade deal with America despite the row over Huawei.
It's thought talks could stall after Britain's decision to give the Chinese tech company the green light over installing the 5G network.
America desperately tried to stop the agreement, fearing Huawei uses its infrastructure to spy on people and countries.
Huawei has strongly allegation.
UK Foreign Secretary Dominic Raab, on a trade mission to the Far East, said:
"We listened and take the concerns of our American friends very seriously.
"We are reasonably confident that we can do a free trade agreement in that first wave of post-Brexit trade deals.
"We have had a good conversation about Huawei and the one thing we all recognise is there has been market failure in terms of high-trust vendors being able to provide telecoms infrastructure."