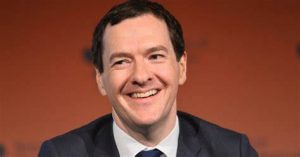 George Osborne's editorship of the Evening Standard is said to be in doubt.
It's believed the former chancellor is soon to leave the London based newspaper.
Osborne was handed the plum role two years ago.
He has juggled his position with several other highly lucrative jobs – including a £650,000 post advising the investment fund BlackRock.
So far, the newspaper's owner, Russian businessman Evgeny Lebedev, has refused to comment on the speculation.
Mike Soutar is the Standard's new chief executive.
He is looking to reduce costs of £11 million a year for the give-away paper.
A decline in print advertising has hit the paper hard.
It also faces a challenge from the introduction of 4G to the London Underground – allowing passengers to read news online.