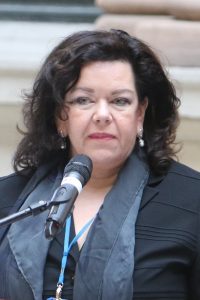 Dame Karen Pierce has been appointed as the British ambassador to the United States.
The move comes amid a reported furious row between Prime Minister Boris Johnson and President Donald Trump.
Mr Trump was said to be "apoplectic" over Britain's decision to grant tech titan Huawei access to the UK's 5G network.
British officials were said to be "taken aback" by the force of Mr Trump's language when Mr Johnson telephoned to explain why the deal had gone ahead.
Chinese company Huawei was given its licence despite huge pressure from America to say "no".
The US believes Huawei uses its infrastructure to spy on people and countries.
Huawei has always strongly denied the allegations.
Dame Karen is the first woman to hold the position of ambassador to the US.
She is currently the UK permanent representative to the United Nations.
She will replace Sir Kim Darroch.
He was forced to step down last summer after criticising Mr Trump in diplomatic cables.
He said the President was "inept".
A No 10 spokesman said: "The UK has an excellent relationship with the United States, and I think Dame Karen's ability as a diplomat is proven by her career."
Dame Karen said: "I am honoured to have been asked to represent the UK in the US.
"I think it is the UK's single most important relationship. There is a deep bond between Britain and the US, built on many pillars."