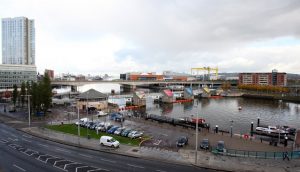 Continuity IRA said it tried to smuggle a bomb onto a lorry before it boarded a ferry for the UK.
The device was timed to go off on the day Britain left the EU.
The bomb was found by police during a search of an industrial estate in Lurgan, Co Armagh.
An army bomb disposal team made it safe.
Continuity IRA (CIRA) planned to smuggle the bomb across the Irish Sea on a ship bound for Scotland.
It would then be transported to somewhere in England to detonate on March 31st.
In a statement to the Irish News in Belfast, the republican group said the bomb had been attached to the lorry "with magnets underneath a refrigerated trailer".
It was on a timer.
The statement added: "It was timed for Britain's exit from the EU and to bring attention to the sea border."
Arlene Foster, the Northern Ireland first minister, said:
"The potential damage which could have been caused and loss of life either here in Northern Ireland, on board a ferry or in Great Britain do not bear thinking about."