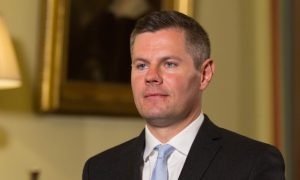 Scottish Finance Minister Derek Mackay has resigned after admitting telling a schoolboy he was "cute".
The 42-year-old SNP member bombarded the 16-year-old with 270 online messages.
The Minister invited the teenager out for dinner after contacting him "out of the blue".
The messaging went on for more than six months.
In one Mackay asked: "Are our chats between us?
"I think you are really cute."
The senior politician – hotly tipped to be Nicola Sturgeon's successor – was due to deliver Scotland's £43 billion Budget in Holyrood today.
However, as the news broke, he resigned with immediate effect saying he had "behaved foolishly".
He added: "I take full responsibility for my actions.
"I apologise unreservedly to the individual involved and his family.
"I spoke last night with the First Minister and tendered my resignation with immediate effect.
"Serving in government has been a huge privilege and I am sorry to have let colleagues and supporters down."
Jackson Carlaw MSP, the interim Scottish Conservative leader, said the messages are "very explicit, totally inappropriate" and constitute "grooming".
"It's a huge lapse of judgement and a serious reputational blow for Parliament as well as Mr Mackay and the Scottish Government."
The Scottish Labour leader Richard Leonard said:
"His actions are predatory and must be thoroughly investigated. He has abused his position of power with a vulnerable adolescent.
"The nature and the gravity of these allegations demands decisive action."
The conversations began last August when Mackay randomly sent a private message to the boy.
He offered to take him to a rugby game after the boy said he could not afford to go to himself.
In another, Mr Mackay asked the S5 year schoolboy to help him deliver campaign leaflets and invited him to "stay for dinner".
Mr Mackay, who is an openly gay father of two after leaving his wife in 2013, now lives with his boyfriend in Bishopton.
The boy's mother, 37, told The Sun: "If I could speak to him, I would ask him 'Why? Why did you do this?'
"I worry about what would have happened if my son had sent him back a message he wanted to hear.
"You can see he tries again and again — like he is trying to get my son to change his mind about something.
"He is trying to see how much he can push it."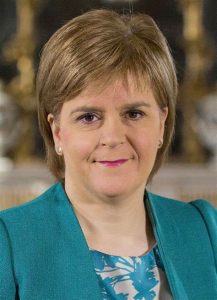 First Minister Nicola Sturgeon said: "Derek has taken full responsibility for his actions and apologises unreservedly for them to the individual involved and to those he has let down.
"He has submitted his resignation as a government minister which I have accepted.
"Derek has made a significant contribution to the government; however, he recognises that his behaviour has failed to meet the standards required."