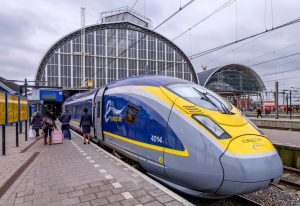 Only days after leaving the EU, Eurostar has launched a new direct route from Amsterdam to London – without a border check.
The earlier journey originally included a change in Brussels when returning to the UK.
Red tape and EU bureaucracy meant passengers had to go through security and passport control before boarding a second train.
The new trip goes from Amsterdam Centraal to London St Pancras in just over four hours – cutting nearly 60 minutes off the current time.
Tickets, starting from £35 each way, go on sale from February 11.
And, the first public service will start on April 20 with up to two trains per day.
It's planned to run trains from Rotterdam on May 18th
New direct routes from Rotterdam will launch on May 18.
Cora van Nieuwenhuizen, Minister of Infrastructure and Water Management in the Netherlands, said:
"Checks in Brussels will no longer be necessary, saving travellers an hour of travel time.
"This way the train really becomes a fully-fledged alternative to the plane."