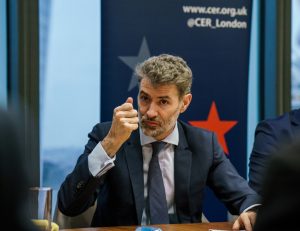 Julian Braithwaite
Britain is open for business.
The UK has informed the World Trade Organisation the country is ready to strike deals.
The move came within hours of the UK officially leaving the EU on January 31st.
Julian Braithwaite, Britain's permanent representative to the WTO in Geneva, posted to Twitter:
"The UK will now represent itself in the WTO, supporting the global trading system which we were instrumental in founding, and advancing our economic interests."
Prime Minister Boris Johnson is looking to make deals with America, Japan and Australia.
At the same time the government will hammer out a deal with Brussels.
However, it's reported the EU might make things difficult for Britain.
EU chiefs want the UK to follow its rules on standards and state subsidies.
Also, to accept the jurisdiction of the European Court of Justice over matters relating to deals.
French President Emmanuel Macron has warned the level of single market access granted would "depend on the degree to which the European Union's rules are accepted".
The Prime Minister is due to give a speech tomorrow and, while accepting there could be "bumps in the road", his reply is expected to be robust.