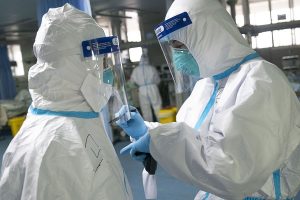 A second group of evacuees from coronavirus-hit China are due to land in Britain.
They will join the 83 people already in quarantine at the Arrowe Park Hospital in the Wirral.
Foreign Secretary Dominic Raab said:
"It's correct that there is a further French flight that is expected back in Europe today and that will carry some UK nationals."
He did not confirm how many passengers were on board, but it's thought 11 are Britons.
Mr Raab added:
"They will go to the Arrowe Park facility and all of the protections, the support during the 14-day period, will be put in place.
"So they will be treated very well, and of course the reason we need to do that is on the one hand we want to get the UK nationals that want to leave China out, on the other hand we need to make sure we control and prevent the spread of the coronavirus because of the implications that that would have."
A University of York student and a relative are the only confirmed cases of coronavirus in the UK.
The government has launched a campaign telling the public about the virus and its ease of spread.
Adverts recommending people use tissues when sneezing or coughing and wash their hands regularly will appear in newspapers, on the radio and on social media.
Health Secretary Matt Hancock said:
"Basic hygiene such as washing our hands regularly and using tissues when we cough, and sneeze can play an important role in minimising the spread of viruses like this."