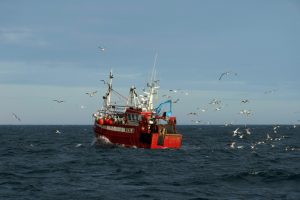 EU fishing boats will no longer be automatically allowed to fish in UK waters.
The practice is to end under the Fisheries Bill introduced to Parliament.
There will also be steps to ensure sustainable fishing – matching the government's commitment to the environment.
Fishing became a major issue during the Brexit campaign.
Despite the industry employing 11,000 people and only generating a £1 billion a year it was totemic for Leavers.
It was a symbol of independence outside the EU.
Over the years successive British governments have handed back fishing rights to Europe – allowing their boats to catch more fish in UK waters than the national fleet.
It was hoped, in exchange for access to the EU's financial services' market, Britain would toe an easier line on European vessels to fish its waters.
Foreign vessels will have to be licensed and follow rules set by the UK if they fish in British waters.
Theresa Villers, Environment Secretary, said:
"This new bill takes back control of our waters, enabling the UK to create a sustainable, profitable fishing industry for our coastal communities, while securing the long-term health of British fisheries.
"Leaving the EU's failed common fisheries policies is one of the most important benefits of Brexit.
"It means we can create a fairer system."
Fisheries Minister George Eustice said:
"The Fisheries Bill gives us the powers to implement our own independent fisheries policy, improve our marine habitats and make decisions based on the health of our fish stocks, not vested interests.
"For many people in coastal communities, taking back control and leaving the Common Fisheries Policy is at the heart of getting Brexit done, and this Bill delivers for the environment, fishermen and the Union."
Barrie Deas, chief executive of the National Federation of Fishermen's Organisations, said:
"New provisions in the bill will mean the UK will take into account the impacts of climate change on its fisheries, with a new objective to move us towards 'climate-smart' fishing."