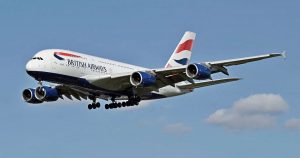 British Airways has stopped direct flights to and from mainland China.
The move came as concerns mount over the spread of coronavirus.
More than 130 people have now died from the flu-like illness.
Another 6,000 people have been infected.
BA usually runs daily flights from Heathrow to Shanghai and Beijing.
A company statement said:
"We apologise to customers for the inconvenience, but the safety of our customers and crew is always our priority.
"Customers due to travel to or from China in the coming days can find more information on BA.com."
Meanwhile, a Foreign Office travel warning has widened to the whole of mainland China.
Baroness Morgan, the Culture Secretary, said:
"The Foreign Office will be working with staff on the ground to identify UK nationals.
"We will get people home as soon as we can, as soon as we can make arrangements.
"Obviously, today's decision by British Airways provides more impetus to the government to make other plans and communicate those."