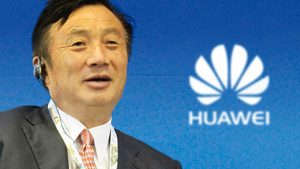 Victor Zheng, Huawei Vice-President
Chinese tech titan Huawei has been given the green light to build part of Britain's 5G network.
The company will have access to "non-core" parts of the system.
It will, however, be barred from "sensitive locations" such as military or nuclear sites.
Prime Minister Boris Johnson has been under increasing pressure from America and his own MPs to refuse Huawei permission.
It's alleged the company uses its systems to spy on people – something it's always strenuously denied.
At today's meeting of the National Security Council it was agreed to give Huawei access even though the company is seen as a "high-risk vendor".
The Council – made up of the PM, senior Cabinet ministers and security chiefs – said the risks could be "safely managed".
Also, banning Huawei would have cost Britain tens of billions of pounds, 5G network delays, and lost years – possibly three – in technological advancements.
Victor Zhang, Vice-President of Huawei, said:
"Huawei is reassured by the UK government's confirmation that we can continue working with our customers to keep the 5G roll-out on track.
"This evidence-based decision will result in a more advanced, more secure and more cost-effective telecoms infrastructure that is fit for the future.
"It gives the UK access to world-leading technology and ensures a competitive market."
However, it remains to be seen if Britain will be "punished" by America for letting in Huawei.
It's thought an angry Donald Trump might curtail future post Brexit trade talks and the US could hold back on sharing intelligence.
A Washington spokesman said decision to let in Huawei was "disappointing".
A Whitehall source said:
"We need to improve productivity in this country [..] and improving productivity requires better connectivity, which is what 5G provides.
"We are clear-eyed about the challenge posed by Huawei, which we today confirm is a high-risk vendor.
"It will be banned from those parts of the 5G and full fibre networks that are critical to security."
The source added that GCHQ insists the 5G network being built has "nothing to do with how we share classified data".
The company will be denied access to the network's control panel which handles routing and private communications.
Its role will be in "non-core" area – installing piping, antennas and masts.
It will only be allowed to build up to 35% of an installation.
Baroness Morgan, the Digital Secretary, said:
"We want world-class connectivity as soon as possible but this must not be at the expense of our national security.
"High risk vendors never have been and never will be in our most sensitive networks."
Making a statement to the Commons, Foreign Secretary Dominic Raab said:
"I want to be absolutely clear that nothing in this review affects this country's ability to share highly sensitive intelligence data over highly secure networks both within the UK and with our partners including the Five Eyes.
"GCHQ has categorically confirmed that how we construct our 5G and full-fibre public networks has nothing to do with how we share classified data.
"And the UK's technical security experts have agreed that new controls on high-risk vendors are completely consistent with the UK's security needs.
"I hope the whole House will agree that if we are to achieve our digital connectivity ambitions it is absolutely imperative that we can trust in the safety and the security of our telecoms networks.
"Risks can't be eliminated in telecoms, but it is the job of Government, Ofcom and industry to work together to ensure we reduce our vulnerabilities and mitigate those risks."