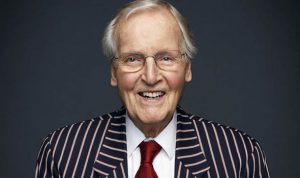 Broadcasting legend Nicholas Parsons has died aged 96 after a short illness.
The star of the Radio 4 show "Just a Minute" was with his family.
He'd presented the programme, where panellists talk for one minute without hesitation, deviation or repetition, since its 1967 debut.
He only missed two recordings over those 53 years.
His agent Jean Diamond said:
"Nicholas passed away in the early hours of the 28th of January after a short illness at the age of 96.
"He was with his beloved family who will miss him enormously and who wish to thank the wonderful staff at the Stoke Mandeville Hospital."
Parsons also appeared in comedy films and television shows.
He was best known for his time as quiz master in "Sale of the Century".
Stephen Fry – a Just a Minute player – tweeted:
"He ruled Just A Minute for Just a Lifetime. "A stunning achievement – never scripted, always immaculate.
"From comedian's sidekick to great institution, via Sale of the Century and much more.
"Unrivalled continuity, professionalism and commitment. Farewell."
And BBC Today presenter Nick Robinson said:
"Without hesitation, deviation or repetition I'd like to say that Nicholas Parsons was a broadcasting giant who proved that the straight man could be the real star of comedy. "
BBC Director-General Tony Hall said:
"Very few people have done so much to entertain audiences over the decades, and no one deserves to be called a broadcasting legend more than Nicholas Parsons.
"His charm, inventive intellect and ability to create laughs were unsurpassed.
"Our thoughts are with his family and all who knew him."