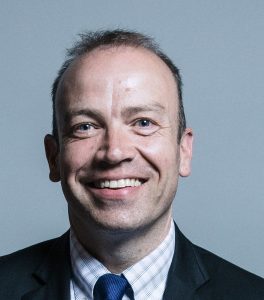 Chris Heaton-Harris, Rail Minister
The third Monday in January – "Blue Monday" – is often reported as the "gloomiest day of the year".
The Rail Minister has marked the day by calling on the travelling public to spark up conversations with fellow passengers and get together with family, friends or colleagues to take time to talk over a warming brew.
The Samaritans' "Brew Monday" campaign is being supported by the Government in an effort to turn this "Blue Monday" on its head and into something positive by encouraging people to get together.
Statistics show that there were nearly 2,000 lifesaving interventions on the railways last year, and that six people were saved for every one that took their life.
The scale of this tragedy meant there were more than 847,000 minutes of related delays and a cost of £68 million to the wider network.
Kelly Holyoake, a train dispatcher at a South London Station, saved the life of a man who was about to take his own life at the station.
He had dropped a suicide note on the floor and was standing at the edge of the platform ready to jump.
She started talking to him, initially asking him how he was.
Even after the British Transport Police arrived Kelly kept up the conversation.
Eventually she talked him out of it, saving a life through small talk.
Kelly said later: "I asked him what was going on and he told me to stay away.
"I moved back and gave it a few minutes which seemed like a lifetime, then I stepped forward again and started talking to him.
"It was the worst and best day. I went through all the emotions, but I knew I made a difference."
The Department for Transport have released footage on social media today which reveals the stories of people affected by rail suicides and urges others to trust their instincts and help those in need.
This can be as simple as sparking up a conversation if they see someone looking isolated, withdrawn or standing alone on a platform without boarding a train.
Transport Ministers have also visited stations across the country today to support Samaritan volunteers as they hand out thousands of tea bags to commuters and encourage people to take time to get together and talk over a brew.
The rail industry is also working with the government to reach a target of a 10 per cent reduction in suicides by 2020/21.
Rail Minister Chris Heaton-Harris said:
"Any suicide on our rail network is tragic. It is the brave efforts of people like Kelly, others in the industry and charities such as Samaritans and Calm which we must recognise.
"So far, with funding from Network Rail, Samaritans has trained more than 20,000 railway employees in prevention techniques. This is a tremendous achievement, but we must not stop there.
"Passengers too can help. Offering a friendly conversation, an opportunity to chat, might be all the difference between suicide and being saved."