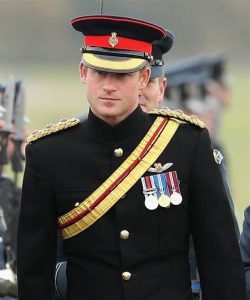 Prince Harry cannot wear uniform after he agreed to leave his Armed Forces appointments.
Retired service personnel can wear their medals at official engagements – but not their uniform.
The "leave" deal, negotiated between Harry and Meghan and Buckingham Palace, means he can't wear his uniforms at state events like Trooping the Colour – or Remembrance Sunday.
Harry served in the army from 2006 until 2015.
Known as "Captain Wales" he completed two tours of duty in Afghanistan.
Lord West of Spithead, the former First Sea Lord, said:
"The next time he [the Duke of Sussex] is at a military event he should be in civilian clothes because he is no longer involved with any military units.
"It is very unfortunate.
"It is very sad to be losing him from the military."
Prince Harry was Captain General of the Royal Marines, Honorary Air Force Commandant of the Royal Air Force Base Honington and Honorary Commodore-in-Chief of The Royal Navy's Small Ships and Diving Operations.