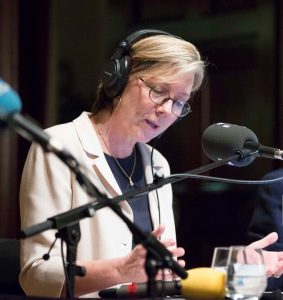 BBC presenter Sarah Montague won a £400,000 pay-out against her bosses over a discrimination row.
The settlement is the latest in its dispute with female staff.
As many as 120 women have taken action against the broadcaster over equal pay.
Ms Montague revealed her pay-out on Twitter after rumours she'd been paid more than £1 million.
She said she had "no option" but to make the facts known.
She tweeted: "When I discovered the disparity in my pay and conditions, I was advised that rectifying it all could run into the millions.
"I chose not to seek such sums from the BBC but I did want some recognition that they had underpaid me.
"Last year after a long period of stressful negotiations, I accepted a settlement of £400,000 subject to tax and an apology from the BBC for paying me unequally for so many years."
Ms Montague, who now presents Radio 4's The World at One, was given the payment after a BBC investigation into unequal pay.
Ms Montague was said to be "incandescent with rage" when she discovered her then Today co-host John Humphrys was paid five times more than she was.
She earned £133,000 and he earned between £600,000 to £649,000.
Recent BBC figures show Ms Montague now earns more than £240,000 in her new job.