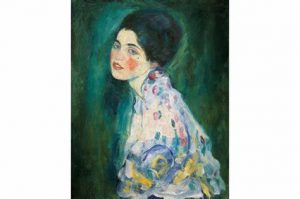 A masterpiece stolen 23 years ago from an art gallery has been found – inside the same building.
Gustav Klimt's "Portrait of a Lady" was discovered by a gardener while clearing ivy from the walls.
He was working in the garden at the Ricci Oddi Modern Art Gallery when he spotted a metal panel.
He prised it open – and inside was the missing picture.
Experts examined the painting to see if it was a fake or the original.
Ornella Chicca, prosecutor for Piacenza, Northern Italy, said:
"It's with no small emotion that I can tell you the work is authentic."
Austrian artist Klimt painted the picture between 1916-17.
He died a year later.
Its disappearance had been one of the art world's biggest mysteries.
Experts believe it now never left the gallery after being stolen.
And the thieves never returned to pick up the spoils.
The painting is in remarkably good condition with only a few signs of damage.
Klimt's pictures can sell for up to £25 million at auction.