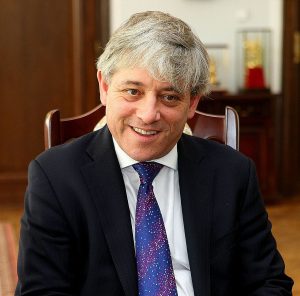 John Bercow
Former Commons Speaker John Bercow racked up a £1,000 taxi fare and splashed out £12,000 on leaving parties.
In the run-up to his retirement he also managed a £7,000 trip to America.
The taxi bill came after Mr Bercow travelled to Nottingham to make a speech at the Political Studies Association.
A Commons spokesman said the 260-mile round trip from London was taken by taxi for "security reasons".
He said: "Due to heightened security concerns for the safety of MPs, Mr Bercow was advised it was safer for him to travel to Nottingham Trent University by taxi, rather than by train."
On a previous trip to Nottingham the year before he spent £70 on a rail fare.
Freedom of Information details obtained by the Daily Mail also reveal Mr Bercow spent £7,000 on a trip to Washington DC in May 2019.
He gave a speech to a think tank on "the role of Parliament in today's Britain".
Mr Bercow also visited Virginia and Boston.
The biggest costs – some £12,000 – came from throwing staff leaving parties.
More than £3,100 was spent for a retirement party for the Speaker's chaplain Rose Hudson-Wilkin.
She, however, didn't retire and was appointed the Bishop of Dover.
A Commons spokeswoman said: "The Speaker's Office has funded retirement receptions for senior staff many times in the past."
Unlike MPs, Mr Bercow's expenses' claims for food and drink are not capped.
New Speaker, Sir Lindsay Hoyle, has promised to bring a "different style" to the job.