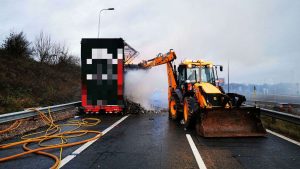 Picture: Highways England
Hundreds of thousands of Pringles have been destroyed after a lorry caught fire on the M1.
The northbound exit slip road at Junction 25 for Derby was closed for eight hours, bringing chaos to the area.
The lorry driver escaped unhurt.
He managed to detach his tractor unit from the trailer before driving to safety.
The blazing load and trailer caused considerable damage to the road surface.
Fire crews and police officers from Derbyshire attended the scene.
And rescue services from Stapleford in Nottinghamshire recommended drivers to "avoid the area if possible".