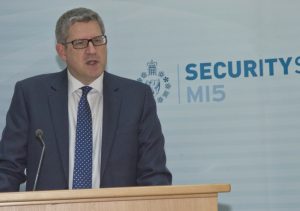 Sir Andrew Parker
MI5 chief Sir Andrew Parker said he has "no reason to think" that allowing Huawei input in the UK's 5G network would compromise intelligence.
His comments come on the eve of US officials arriving in London to lobby against the Chinese tech titan having any input.
Sir Andrew's intervention suggests the British government will agree to Huawei biddings to build "non-core" parts of the 5G network.
Sir Andrew, in an interview with the Financial Times, said the "Five Eyes" intelligence sharing between Britain, America, Canada, Australia and New Zealand was the "strongest" it had been.
IN particular, the UK-US partnership was "very close and trusted".
He added: "It is, of course, of great importance to us.
"And, I dare say, to the US too, though that's for them to say.
"It is a two-way street."
Sir Andrew did not think the "Five Eyes" agreement would be weakened if Huawei was given the green light.
He said: "I've no reason today to think that."
Former Prime Minister Theresa May gave Huawei a partial nod to help set-up the UK's 5G infrastructure.
But the decision has been on hold since Boris Johnson won the general election last December.
America believes Huawei uses its equipment to spy on people and countries.
However, it has supplied no evidence to support the claim.
And Huawei strongly denied the allegation.
America and Australia have already stopped Huawei building its country's 5G networks.
It's feared Britain's refusal to follow step could strain the "special relationship" between the UK and America.
Prime Minister Boris Johnson is also looking towards the US for a strong trade deal after Brexit.
Also, refusing Huawei could damage East-West links for the UK.
Mr Johnson has been under pressure to make a decision for months.
MPs on Parliament's Intelligence and Security Committee warned last July that "the delay is now causing serious damage to our international relationships: a decision must be made as a matter of urgency".