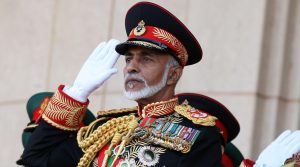 Prime Minister Boris Johnson has paid tribute to the ruler of Oman Sultan Qaboos bin Said who has died.
He was aged 79.
Mr Johnson said he was "deeply saddened" – describing the Sultan as an "exceptionally wise and respected leader who will be missed enormously".
The Arab leader was trained at the military academy at Sandhurst and he served with British forces in Germany.
With the help of Britain, he overthrew his father in a bloodless coup in 1970.
Using the vast riches generated from oil he turned Oman into a model country.
Mr Johnson said: "He will be remembered for his devotion to the development of Oman into a stable and prosperous nation, and as the father of the nation who sought to improve the lives of the Omani people.
"I had the pleasure of meeting His Majesty Sultan Qaboos and was struck by his commitment to peace and understanding between nations and between faiths. He leaves a profound legacy, not only in Oman but across the region too.
"The UK is a proud friend and enduring partner of Oman, and our thoughts and prayers are with the Omani people."