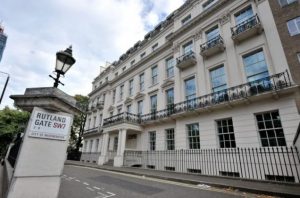 A Chinese property billionaire is about to smash the London house-price record – paying £210 million for a Knightsbridge mansion.
Cheung Chung Kiu has agreed to purchase the home in Rutland Gate, overlooking Hyde Park.
It would be the highest price paid for a house in Britain – some £70 million more than buyers paid for an Oxfordshire country estate ten years ago.
It would also be among the most expensive houses sold in the world.
It's not known if the Rutland Gate property would be kept as a house or broken up into apartments.
The seven-storey white stucco property was built in the 1830s as a row of four townhouses.
In the 1980s is was redesigned into a single Italian style "palace".
It has a series of state rooms with bullet proof windows, several lifts, a swimming pool, health spa and gym.