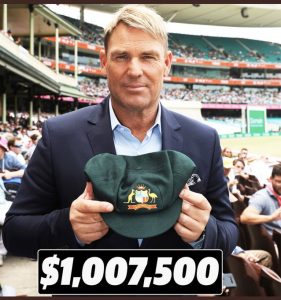 Cricketer Shane Warne's "baggy green" Australia cap has been sold for more than £528,000 to help fire-fighters.
The legendary spin bowler wore the cap throughout his 145 match Test career.
His right-arm leg breaks took 708 Test wickets.
Warne, 50, was named as one of the five greatest ever cricketers.
The coveted cap was bought for (Aussie) $1,007,500 by Australia's Commonwealth Bank.
Warne said he was "blown away" by the generosity.
He added the final sum was "way beyond expectations".
Bush fires have been raging through South East Australia since last September.
So far 27 people have died, an estimated one billion wild animals have perished, and vast areas have been scorched.
The Commonwealth Bank will take the cap on a national tour to continue to raise money for communities affected by the bushfires.
It will then be placed in the Bradman Museum in New South Wales.