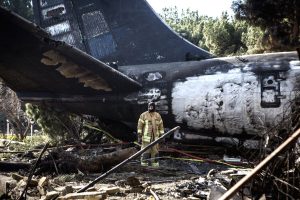 Boris Johnson has said Iran shot down the Ukrainian passenger jet flying over Tehran – though, it might have been an accident.
American satellites are said to have spotted two surface-to-air missiles launched just before the flight was downed.
And, it's believed missile fragments have been found near the plane's wreckage.
All 176 passengers died in the crash – 63 of them Canadians and four British.
Mr Johnson said:
"There is now a body of information that the flight was shot down by an Iranian Surface-to-Air-Missile.
"This may well have been unintentional."
Earlier, Canadian Prime Minister Justin Trudeau revealed "multiple intelligence sources" indicated a missile attack.
Again, he stressed it appeared to be "accidental".
Ukrainian International Airlines flight 752 took off after Iran had fired rockets at US bases in Iraq.
There's speculation the plane was hit in the "fog of war".
Britain is recommending against all travel to Iran.
Foreign Secretary Dominic Raab said:
"Given the body of information that UIA Flight 752 was shot down by an Iranian surface-to-air missile, and the heightened tensions, we are now advising British nationals not to travel to Iran."