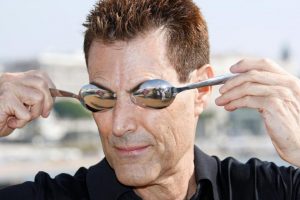 Spoon bending psychic Uri Geller has applied for a job in 10 Downing Street.
He's answered an advert from Tory guru Dominic Cummings for "assorted weirdos" to work for Boris Johnson.
Senior adviser Mr Cummings also asked for applicants to be "misfits and unusual" – people on the "frontiers of the science of prediction".
Mr Geller -famed for bending metals spoons through willpower – sent his CV and a covering letter to Downing Street.
He claimed he'd worked for the CIA and FBI – even boasting he'd once wiped clean data on KGB floppy disks by chanting the mantra "erase".
A friend of Mr Geller told the Daily Telegraph:
"Uri is keen to use his powers to tackle growing tensions in the Middle East.
"He is 100 per cent serious about taking up a role in Government.
"He concedes that his application might be one of the more unusual received by Dominic Cummings but hopes that he can see the potential value of having Uri on board."
Mr Geller, 73, currently lives in Israel.