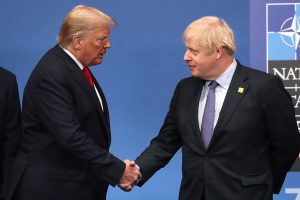 Library picture
Prime Minister Boris Johnson has spoken to Donald Trump about the escalating crisis in the Middle East.
The White House confirmed the two men discussed the situation by telephone.
Few other details were released.
However, it said the leaders "reaffirmed the close alliance between the two countries."
Mr Johnson is expected to brief his ministers today.
The crisis started when a US drone "took out" Iranian General Qassem Soleimani – Iran's revolutionary guard Quds force commander.
His replacement, General Esmail Ghaani, has vowed to "get rid of America from the region".
He added: "God the almighty has promised to get his revenge, and God is the main avenger.
"Certainly, actions will be taken."
Mr Johnson and his French and German counterparts, Emmanuel Macron and Angela Merkel, have called for all sides to work towards an urgent easing of tensions in the Persian Gulf.