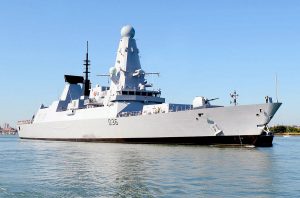 HMS Defender
Britain has dispatched two warships to escort UK-flagged ships through the Strait of Hormuz.
The response comes after the killing of Iranian military chief Qassem Soleimani.
He was killed by an American drone.
HMS Montrose and HMS Defender have been sent to the troubled region.
It's believed that SAS soldiers have also been deployed to neighbouring Iraq.
Defence Minister Ben Wallace said the warships will protect all vessels sailing under a British merchant flag.
He added: "The government will take all necessary steps to protect our ships and citizens at this time."
Iran has vowed to exact revenge on America after President Donald Trump ordered the fatal air attack to "take out" the Iranian general.
Iran's leaders have also threatened to target America's allies in the region.
Mr Wallace confirmed he had spoken to his US opposite number Mark Esper about the attack.
He added: "We urge all parties to engage to de-escalate the situation.
"During the last few months US forces in Iraq, who are based in Iraq at the invitation of the Iraqi government, have been repeatedly attacked by Iranian backed militia.
"General Soleimani has been at the heart of the use of proxies to undermine neighbouring sovereign nations and target Iran's enemies.
"Under international law the United States is entitled to defend itself against those posing an imminent threat to their citizens."