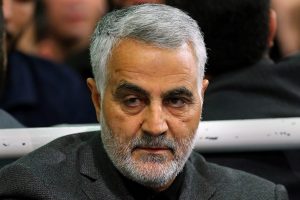 General Qasem Soleimani
Outgoing Labour leader Jeremy Corbyn has demanded an urgent meeting with Boris Johnson over the US killing of Iran's top military chief.
Mr Corbyn wrote to the Prime Minister as America readied itself to send an extra 3,000 troops to the Middle East.
He's asked seven questions about the slaying of General Qasem Soleimani.
The army officer was "taken out" by a drone strike ordered by US President Donald Trump.
Mr Corbyn wants to know how much the UK knew about the strike before it happened.
He also wants to know if Mr Johnson had spoken to Mr Trump about the raid.
It's believed the White House gave no warning of the attack to Number 10 – even though the UK has hundreds of troops stationed in Iraq.
Mr Corbyn has called for an emergency Privy Council meeting to discuss the growing tension in Middle East.
He said: "Given the serious nature of the issues now faced by our country and indeed the world as a consequence of the US attack, I would welcome a prompt response to this request and stand ready to attend any briefing meeting as soon as arranged."
Mr Johnson is currently on holiday in Mustique with his girlfriend Carrie Symonds.
Downing Street has yet to confirm when the couple are due to return.