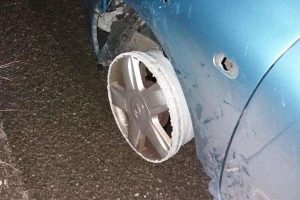 Motorway police stopped a car on the M66 after it appeared to be driven badly.
And within seconds of inspecting the vehicle they knew why – it had no front tyres.
A roadside breath test showed the driver was six times over the limit.
He was arrested.
The incident happened on New Year's Day.
North West Motorway Police shared photos of the vehicle on social media, describing it as "unbelievable".
They said: "You can see why it came to our notice."