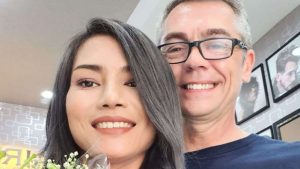 ©Jasmine, Facebook
A British man has died after a firework exploded in his face at a New Year's Eve party in Thailand.
Gary McLaren was celebrating with his fiancé and friends when the cracker went off.
Mr McLaren, 50, from Corby in Northamptonshire, died at the scene – a bar in the busy Pattaya district.
He suffered serious facial injuries and didn't respond to CPR treatment.
Mr McLaren, who was engaged to local girl Jasmine, had only arrived in Thailand a few days before.
The Bangkok Post reports a witness describing how Mr McLaren tried to light the firework twice before smoke began pouring out and it went off.
Police have taken a large firework as evidence.
His fiancée, Jasmine, was seen crying and hugging his body.
She posted a picture of the couple together in tribute:
"This is [our] last picture honey, you will be in my heart for ever babe. RIP Gary McLaren."
Bar owner and friend Mike Cooperman added:
"RIP Gary, a good friend and brother, Jasmine please accept our deepest condolences and to his family."