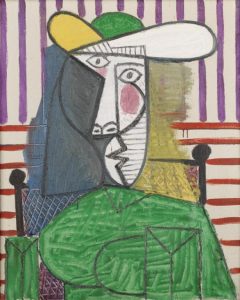 A £20 million Picasso painting hanging in London's Tate Modern has been damaged.
"Bust of a Woman" was "ripped" during opening hours.
The picture has been removed from view and the damage is being assessed by conservation experts.
The gallery has declined to comment on the extent of the rip.
A spokesperson said a member of the public had attempted to damage a painting, and a suspect had been "swiftly apprehended".
The Metropolitan Police said:
"Detectives investigating an incident of criminal damage at the Tate Modern, Bankside, on Saturday 28 December have charged a man."
A 20-year-old man – Shakeel Ryan Massey from London – appeared before local magistrates.
He was denied bail and has been remanded in custody until a pre-trial hearing at Inner London Crown Court on 30 January.
Bust of a Woman was painted in Paris in 1944 during the Nazi occupation.
The picture is of photographer Dora Maar sitting on a metal chair wearing a hat and green clothing.
It's said Maar was Picasso's lover.