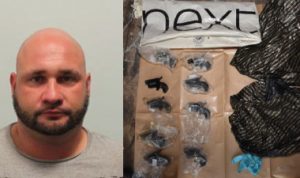 A gun runner has been convicted of trying to smuggle 96 lethal firearms into the UK.
Stephen Spires, 37, from Slough, was found guilty of possession.
Two other men in the conspiracy were found guilty in 2018.
Spires, who boasted he'd never had a proper job, hid the weapons in specially made holes in engine blocks.
The engines were loaded onto a trailer in Poland and travelled across Europe.
Working on a tip-off, the guns and thousands of rounds of ammunition were seized by law officers in France.
Tony O'Sullivan from the Organised Crime Partnership said:
"Spires played a key role in importing what is believed to be one of the largest hauls of firearms seized in the UK.
"Not only were all 96 firearms viable weapons, they were packaged up with thousands of rounds of ammunition.
"I have no doubt they would have been sold for profit on the criminal market.
"Although the level of gun crime in the UK remains one of the lowest in the world, we know that handguns like these are still the most commonly used firearms.
"They are easily concealable, making them the firearm of choice by criminal groups, who use them to bring fear and violence to streets of the UK.
"Stopping their onward distribution has protected the British public and no doubt prevented gang-related shootings."
Spires will be sentenced at the end of January.