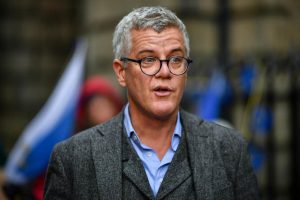 More than 11,500 people have signed a petition demanding a top lawyer be prosecuted after he "battered" a fox to death.
Jolyon Maugham killed the predator with a baseball bat after it became trapped in netting protecting the QC's chickens.
Mr Maugham, a tax law specialist from London, posted on Twitter:
"Already this morning I have killed a fox with a baseball bat. How's your Boxing Day going?"
As a social media furore surrounded the tweet, he added further details.
He said he "wasn't sure what else to do" about the trapped animal.
He added: "My chickens were very distressed by the fox, both before and after I'd despatched it – and I wanted it out of the way quickly."
He then admitted he had been wearing his wife's "too small green kimono" and "nursing a hangover" at the time.
He later apologised if anyone had been "upset".
The petition calls for:
"The public interest would be served by a proper investigation and clarification of the law and if appropriate prosecution for this cruel act."
An RSPCA spokesperson said: "We're aware of a situation regarding a fox and would like to reassure people that we're investigating."