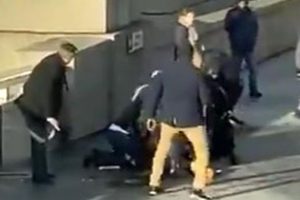 Undoubted heroes of the London Bridge terror attack are to be considered for the highest civilian honours for bravery.
They could receive the George Cross or the Queen's Gallantry Medal.
One likely recipient is James Ford, a convicted murderer.
He was on day release attending a justice seminar in Fishmongers' Hall when known terrorist Usain Khan ran amok with knives.
He killed two people before being chased across London Bridge by Ford and Darryn Frost.
Frost had armed himself with the tusk of a Narwhal taken from the walls of the Hall.
When that broke, he went and fetched another.
Frost pinned Khan to the floor stopping him from activating a suicide belt around his waist.
The belt was fake.
Khan was shot dead by the police.
Home Secretary Priti Patel has received a report on honouring the two men – and at least eight others who took up the hue and cry.
A report source said:
"A police bravery award is being considered that would not go through the same level of approval process as other awards.
"They deserve a medal in front of the country.
"We believe something like that would not carry the same issues with regard to the man who has a serious conviction."
Lukasz Kockzocik, 38, a kitchen worker, was stabbed five times as he fought Khan with a pole.
He said this week: "I and several others tried to stop a man from attacking people inside the building.
"I did this using a pole I found.
"Someone else was holding a narwhal tusk.
"The man attacked me, after which he left the building.
"A number of us followed him out but I stopped at the bollards of the bridge.
"I had been stabbed and was later taken to hospital to be treated.
"I am thankful that I have now been able to return home.
"When the attack happened, I acted instinctively.
"I am now coming to terms with the whole traumatic incident and would like the space to do this in privacy, with the support of my family.
"I would like to express my condolences to the families who have lost precious loved ones. I would like to send my best wishes to them, and everyone effected by this sad and pointless attack."