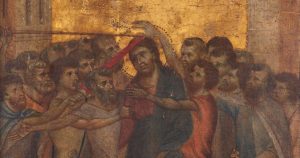 France has stopped a £20 million Renaissance masterpiece found in a kitchen from leaving the country.
The 13th Century picture "Christ Mocked" by Cimabue is the most expensive Mediaeval painting ever sold.
It was bought by two American based Chilean private collectors who specialise in Italian Renaissance art.
The par outbid the New York's Metropolitan Museum of Art last October.
However, the French Government has refused the buyers an export certificate.
The picture has been deemed "a national treasure" and should stay in the country.
Franck Riester, the French culture minister, promised to "mobilise all efforts for this exceptional work to enrich our national collections".
The state now has 30 months to match the auction price of £20.5 million.
The wooden panel painting measures only 8 by 11.2 inches.
It hung for decades above a kitchen stove in an elderly woman's house near Compiègne, north of Paris.
Because of dirt and grime, it was barely recognisable as a Cimabue.
An auctioneer spotted the picture when he came to value the old lady's furniture after she was placed in a home.