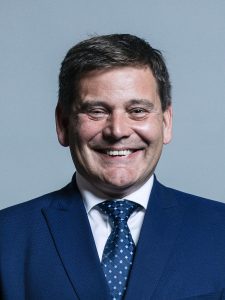 Andrew Bridgen MP
Tory MP and vociferous Brexiter Andrew Bridgen has called for Nigel Farage to be given a knighthood.
Mr Bridgen also wants arch-Remainer Ken Clarke to be honoured as well.
The North West Leicester member believes the twin awards to the totally opposed politicians could help "heal the country".
Mr Bridgen said: "Part of the idea of rewarding people on both sides of the argument is to try to pull our country back together in a season of goodwill."
It's the second time Mr Bridgen has made the suggestion.
After the landside Tory victory in the December 12th election he wrote to the Prime Minister making the request.
Mr Bridgen's letter said: "As you [Mr Johnson] rightly said in your post-election speech, the country now needs to go through a healing process, and I believe we should honour those on both sides of the referendum debate.
"I am therefore writing to recommend that the Government should honour Nigel Farage with a knighthood, to reward the work he has undertaken over many years to advance the case for the UK leaving the European Union.
"Likewise, I believe that my former constituency neighbour, Kenneth Clarke, should also be honoured with either a peerage or a knighthood, to recognise his many years of service for the Party and Country."