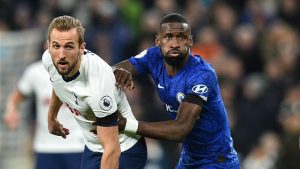 The Professional Footballers Association (PFA) wants a Government inquiry into "racism" in the UK.
The demand follows Chelsea defender Antonio Rüdiger being subjected to "monkey noises" during the London derby clash with rivals Tottenham Hotspur.
The PFA is concerned the number of incidents is rising, despite a promise to clamp down on racism in grounds.
In a statement it said: "The PFA calls for a government inquiry into racism and the rise of hate crime within football.
"We want immediate and urgent action from an All-Party Group at the Department of Culture, Media and Sport to address this urgent issue.
"We believe that the time has come for all governing bodies to unite collectively to end abuse."
Rüdiger said on social media: "It is really sad to see racism again at a football match.
"But I think it's very important to talk about it in public.
"If not, it will be forgotten again in a couple of days (as always).
"I don't want to involve Tottenham as an entire club into this situation as I know that just a couple of idiots were the offenders.
"I got a lot of supportive messages on social media from Spurs fans as well in the last hours – thank you a lot for this.
"I really hope that the offenders will be found and punished soon.
"In such a modern football ground like the Tottenham Hotspur Stadium with dozens of TV and security cameras, it must be possible to find and subsequently punish them.
"If not, then there must have been witnesses in the stadium who saw and heard the incident.
"It's just such a shame that racism still exists in 2019. When will this nonsense stop?"
Chelsea captain Cesar Azpilicueta said Rüdiger heard "monkey noises" from the crowd during his side's 2-0 victory.
Referee Anthony Taylor intervened and spoke to both captains and then the team managers – Chelsea's Frank Lampard and Spurs' Jose Mourinho.
Spurs said: "Any form of racism is completely unacceptable and will not be tolerated in our stadium.
"We take any such allegations extremely seriously and shall take the strongest possible action against any individual found to be behaving in such a way, including stadium bans."