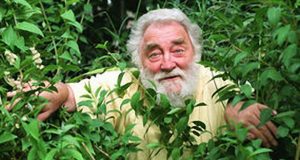 Conservationist and television star David Bellamy has died aged 86.
The "larger than life" character inspired a generation to care about the environment.
Bellamy, with his distinctive wild look and accent, was a leading celebrity in the 70s and 80s.
He presented "Don't Ask Me" and "Bellamy on Botany."
His "mangled" voice was a must for impersonators.
Sir Lenny Henry's catchphrase "grapple me grapenuts" was inspired by Bellamy.
However, Bellamy's career suffered in later years when he described global warming as "poppycock".
David Shreeve, the director of the Conservation Foundation, said:
"Sadly, I have to report that David Bellamy died this morning
"David and I worked together on a variety of projects in a various places since launching The Conservation Foundation in 1982.
"He was a larger-than-life character who became a very special friend and teacher.
"He inspired a whole generation with his wide range of interests and enthusiasm which knew no bounds.
"The Conservation Foundation was very special to him and so today is very sad for all of us."
The cause of death is not yet known.
Bellamy was born in London but moved to County Durham.
He was a lecturer at the university.
He attracted recognition following his work on the Torrey Canyon oil spill in 1967.
Offers for TV work followed, launching his career.
His voice and animated on-screen presence quickly brought him his own series.
He presented Bellamy On Botany, Bellamy's Britain, Bellamy's Europe and Bellamy's Backyard Safari.
He won a Bafta in 1979.
Three years later he launched the Conservation Foundation in an appearance on the BBC's Parkinson show.
Bellamy spent his 50th birthday in an Australian prison.
He'd been arrested in a protest against a proposed dam on the Franklin River.
In later life, Bellamy attracted criticism for voicing doubts about global warming.
In 2004 he described climate change as "poppycock" – an opinion he claimed cost him his career.
He said he'd been "shunned" and work "dried up".