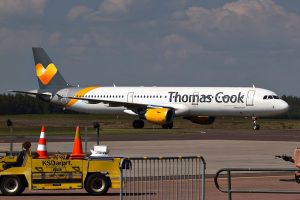 Tens of thousands of Thomas Cook holidaymakers are still waiting for refunds.
The world's oldest tour operator collapsed earlier this year, leaving 150,000 sun-seekers stranded abroad.
The Civil Aviation Authority (CAA) stepped in to ensure claimants were recompensed.
It set a 60-days' time limit to repay the money – but has failed to hit the deadline.
A third of claimants – some 50,000 people – are still awaiting their money.
Paul Smith, a CAA director said:
"We are making good progress and we are sorry for those people that we've not yet been able to pay.
"There's still quite a lot to pay and particularly at this time of year we want to get the money back to people as quickly as possible.
"We want to make sure it is the right money to the right people.
"Tt is a very big challenge."
The CAA refund programme is looking at 300,000 cancelled holiday bookings for customers covered by Atol financial insurance.
The regulator said delays had occurred because of  "complex" booking data sent by Thomas Cook.
Some claim forms were incomplete.
And, a significant number were "fraudulent".