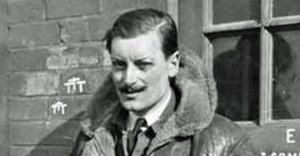 One of the last surviving fighter pilots from the Battle of Britain has died.
Flight Lieutenant Maurice Moundson was aged 101.
He was only one of four left from "The Few" – the brave 3,000 plus service men and women who defeated the Nazi Luftwaffe in 1940.
Then Prime Minister Winston Churchill immortalised the victory with the phrase:
"Never in the field of human conflict was so much owed by so many to so few."
The Battle of Britain led to the deaths of 544 RAF pilots and aircrew.
They came from Poland, Canada and New Zealand.
The head of the RAF, Air Chief Marshal Mike Wigston, said Mr Mounsdon's bravery should never be forgotten.
He said: "He fought for and won our freedom.
"His was a remarkable story, which will continue to inspire this and future generations of the Royal Air Force.
"His bravery and sacrifice should never be forgotten."
Mr Mounsdon had "four kills" to his name.
In a 2015 BBC interview he said he was serving with 56 Squadron, based at RAF Digby in Lincolnshire.
He was flying out of North Weald in Kent, when he was sent out to intercept Nazi bombers on 31 August 1940.
He downed one, but then a German shell hit the fuel tank of his Hawker Hurricane.
Mr Mounsdon said: "I was on fire. There was only one thing to do and that was to get out as fast as possible.
"I was badly burned, but I rolled the aircraft over and came down by parachute from 14,000ft."
"It was the first time I'd used a parachute. I was jolly lucky."
Mr Mounsdon suffered with burns to his hands and legs and spent many years having skin grafts.
The three surviving members of the Few are Flt Lt William Clark, 100, Wing Commander Paul Farnes, 101, and Flying Officer John Hemingway, 100.