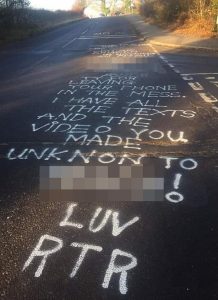 An army major has been caught up in a love row after a rival regiment daubed allegations outside his barracks.
The suggestion Major Alan Ponde was having "an affair" was scrawled in white capital letters along a 50ft stretch of road.
Major Ponde, 44, married with two children, is a senior officer in the King's Royal Hussars.
Nearby is the rival Royal Tank Regiment (RTR).
The offending message left outside the Bovington camp in Dorest, was signed "Luv RTR".
The tell-tale writing has now been moved by council workers – but not before it was shared on social media.
Dorset police said they were investigating an incident of criminal damage but have so far made no arrests.
A Ministry of Defence spokesman said:
"We are aware of some graffiti outside Bovington Camp.
"It would be inappropriate to comment further."