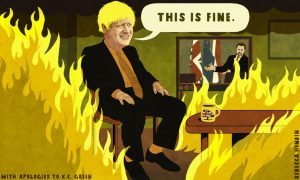 The Political Cartoon of the Year has been won by Rebecca Hendin.
She drew Boris Johnson sitting alone in a flame licked room after skipping a press conference with Luxembourg's prime minister.
The cartoon appeared in the Guardian.
The Pocket Cartoon of the Year was won by Zoom Rockman – aged just 19.
His take on the plight of homeless people featured in Private Eye.
The satirical magazine first used his work when he was 16 years old.
The awards were presented by two former MPs, Tory grandee Ken Clarke and Labour's Kate Hoey.
Neither are seeking re-election on December 12th.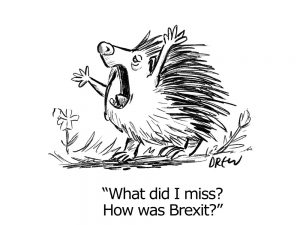 ©Andrew Fraser
Pocket cartoon finalist Andrew Fraser said:
"There were lots of excellent cartoonists in my category, so I wasn't that disappointed not to win.
"Drawing pocket cartoons is quite an isolated activity with a lot of rejections.
"It was a big boost to be shortlisted.
"A good pocket cartoon can sum up so much in a small space and say something true, funny or profound in ways other media can't.
"It was great to see this art form being celebrated at this event."
The event was organised by Ellwood Atfield at its Westminster offices.
Managing Director Ben Atfield said:
"Cartoons do not only act as news sources, but they can translate into a historical record of the political climate.
"In a time when journalism is constantly evolving, political cartoons have remained a topical method of political commentary.
"The ability of cartoons to communicate a compelling and comprehensive message has undisputedly stood the test of time."