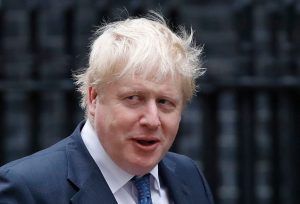 Prime Minister has accused Labour leader Jeremy Corbyn of "siding with our enemies".
The harsh rebuke comes as world heads arrive in London for a two-day NATO summit.
Mr Johnson claimed Britain's closest allies were "anxious" about Mr Corbyn winning the keys to Number 10.
The PM believes the countries that make up the "Five Eyes" intelligence service – the UK, America, Canada, Australia and New Zealand – could stop working closely together.
Mr Johnson told the Sun:
"Every time he has the chance, he sides with our enemies.
"A lot of our allies, particularly the Five Eyes, are very anxious about any future collaboration.
"It is absolutely not a Tory scare story. They have said precisely this."
In response, a Labour spokesman accused the Tories of trying to "keep people safe on the cheap".
The spokesman added:
"Jeremy Corbyn has consistently made the right calls in the interests of peace and security at home and abroad and will do whatever is necessary and effective to keep the British people safe.
"Real security doesn't just come from strong laws and intelligence; it also comes from effective public services that have the funding they need. You can't keep people safe on the cheap."