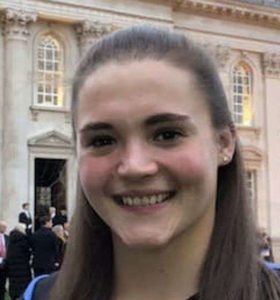 The second victim of the London Bridge terrorist knife attack has been named as Saskia Jones.
Ms Jones, from Stratford-upon-Avon,  was a 23-year-old Cambridge graduate.
The other person who died was Jack Merritt, 25, also a Cambridge graduate.
The couple were working together on a prisoner rehabilitation scheme at Fishmongers' Hall in London.
Their killer, convicted terrorist Usman Khan, was on the course when he lashed out with a knife.
After the attack he ran off across London Bridge chased by have-a-go heroes armed with a fire extinguisher and a Narwhal tusk.
Khan, who was wearing a fake suicide vest, was shot dead by the police.
Ms Jones' family said:
"Saskia had a wonderful thirst for knowledge and was a funny, kind, positive influence at the centre of many people's lives.
"She had a wonderful sense of mischievous fun and was generous to the point of always wanting to see the best in all people.
"She was intent on living life to the full and had a wonderful thirst for knowledge, enabling her to be the best she could be.
"Saskia had a great passion for providing invaluable support to victims of criminal injustice, which led her to the point of recently applying for the police graduate recruitment programme, wishing to specialise in victim support.
This is an extremely painful time for the family. Saskia will leave a huge void in our lives and we would request that our privacy is fully respected."
Professor Stephen J Toope, vice chancellor of the University of Cambridge, said he was "sad beyond words" to confirm the deaths.
He said: "Our university condemns this abhorrent and senseless act of terror. Our condolences, our thoughts and our deepest sympathies are with the victims and their families."