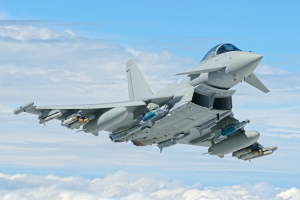 Thousands of people were woken by a "big bang" heard over London and the home counties.
Houses were shaken and car alarms were activated around 04.20.
Hundreds of people took to social media fearing it was a bomb blast.
The Metropolitan Police quickly confirmed the bang was a sonic boom from two RAF fighter planes flying faster than the speed of sound.
It added: "There is no cause for concern."
The Typhoon FGR4 planes were scrambled from RAF Coningsby in Lincolnshire.
Coningsby is one of two RAF Quick Reaction Alert (QRA) Stations which protect UK airspace – the other is RAF Lossiemouth in Scotland.
The base is home to two frontline, combat-ready squadrons and is the training station for Typhoon pilots.
The Typhoons were alerted after reports that a Boeing 767 had lost communication.
The fighter can go from "brakes off" to Mach 1.5 – 767 mph – in less than two and a half minutes.
Mil Radar, a Twitter account dedicated to air force and navy monitoring, posted:
"At approx. 0400z Royal Air Force Typhoons callsign 5EA26 & 5EA27 launched from RAF Coningsby to an unresponsive aircraft.
"N725SH lost communication with ATC and now seems to be back in communication with relevant control.
"Royal Air Force Voyager ZZ334 launched from Brize Norton for QRA Typhoon support."