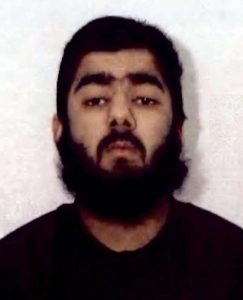 The man shot dead by police on London Bridge has been named as convicted terrorist Usman Khan.
The 28-year-old was released from prison on licence last December.
He'd admitted conspiracy to cause explosions and other terrorism offences against the London Stock Exchange.
He appeared in court with eight co-accused – said to be members of an al Qaida-inspired group.
Woolwich Crown Court was told a hand-written target list included the names and addresses of the Dean of St Paul's Cathedral in London, and Tory Boris Johnson.
The American Embassy in London was also a potential target.
Khan, then aged 20, was secretly recorded talking about recruiting UK radicals to go to a training camp in Kashmir.
And, he declared there were only three possible outcomes: jihadists: victory, martyrdom or prison.
Khan, from Stafford, was given an indeterminate sentence for public protection and ordered to serve at least eight years in prison.
He was released on licence in December 2018.