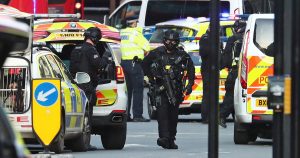 Police have shot dead a man after two people were stabbed to death in a terrorist attack.
Three other members of the public were injured by the knifeman.
He was cornered on London Bridge and brought down by have-a-go-heroes – one taking away the knife.
Armed police stepped in and two shots were heard.
It's believed the man was wearing a suicide vest – but it appears to be fake.
The incident started at the nearby Fishmongers' Hall on the northern end of London Bridge.
The man, thought to be a former prisoner with a conviction for terrorism, was attending a meeting about criminal justice.
One person was stabbed at the event and the man fled southwards over London Bridge.
In the hue and cry that followed he was tackled by passers-by.
Police Commissionaire Cressida Dick said officers were working at "full tilt" to understand what had happened.
Also, if the killer was working on his own or was part of a terrorist cell.
Footage posted on social media showed a man in a suit retrieving the knife and running away from the first fracas.
Further footage shows two police officers arriving, hauling another member of the public off the knifeman, and then two shots were fired.
The actions of the public have been widely praised, including by Prime Minister Boris Johnson, Labour leader Jeremy Corbyn and Ms Dick, who said they had shown "extreme courage".
Ms Dick said: "Ours is a great city because we embrace each other's differences.
"We must emerge stronger still from this tragedy.
"In doing that we will ensure that the few who seek to divide us will never, ever succeed."
Prime Minister Boris Johnson later chaired an emergency meeting of COBRA
He said: "This country will never be cowed or divided or intimidated by this sort of attack and our values, our British values, will prevail."
And, London Mayor Sadiq Khan thanked the members of the public who showed "breath-taking heroism" in running towards danger – "not knowing what confronted them".
Eye-witnesses Amanda Hunter – who was on a passing bus – told the BBC:
"All of a sudden [it] stopped and there was some commotion and I looked out the window and I just saw these three police officers going over to a man…
"It seemed like there was something in his hand, I'm not 100% sure.
"But then one of the police officers shot him."