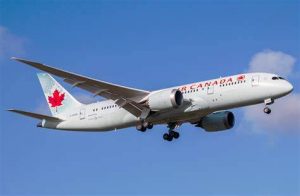 A trans-Atlantic flight was forced to divert when pilots spotted a crack in the cockpit windscreen while flying at 38,000 feet.
The Air Canada flight had left London for Toronto when the side window defect was seen.
The Boeing 787 Dreamliner had flown over Ireland and was starting its journey across the Atlantic.
The decision was taken to turn around and head to Dublin.
A spokesperson for Air Canada said:
"On November 23 2019, AC857, operated with a Boeing 787 Dreamliner, from London Heathrow to Toronto, diverted to Dublin due to a cracked Captain's side window.
"There were 254 passengers onboard, who were put in hotels for the night.
"Another aircraft was dispatched to bring the customers home the next day and the original aircraft was repaired and has since returned to service."